HOW TO INTRODUCE A NEW CAT INTO A HOUSEHOLD WITH ANOTHER CAT

Many people come to me with the question of how to introduce a new cat into the household where there is an existing cat. It's a time that can determine,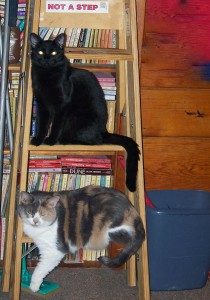 from the outset, how your cats will perceive each other and get along for the rest of their lives, so it's critical that you understand how to do it before you ever bring your new little one into the house.
PLAN ON TWO WEEKS OF SEPARATION
First of all, many people think they can bring them in and keep them separated for a day, and all will be well. This is NOT the case. 1 day, 2 days, even 3 days is way too short of a time. The last time we did it, I think the vet recommendation was a good two weeks. That's hard, but you need to do it way longer than a day. For one thing, you need to make sure that the kitten has no hidden communicable diseases that might show up.
GIVE THEM FREQUENT 'SNIFF TIME'
You need to give them plenty of time, day after day, and night after night, to sniff each other under the door and get accustomed to each other's smells and the idea that this is not temporary, but this is someone they're going to smell every day, every day. This is especially important for the established cat.
LET THEM SEE EACH OTHER FROM A DISTANCE
Once you've given them a few days to do that, start bringing the kitten out by hand, one person holding the kitten on the floor, the other the cat and let them look at each other from a distance. Do this several times throughout the day. After that when you do it, let them get a little closer and closer, still holding them, until you can let them get close enough without hissing to smell each other. (Again, this is more for the cat than the kitten.) (If you live alone, either bring in a friend to help you, or just hold the new cat and let the established cat take his or her time coming up to sniff.)
GIVE NEW CAT SHORT PERIODS OF 'INVESTIGATION'
Once that has been accomplished, start letting the kitten out to run around, for very short periods of time, when you are home and can watch over things. Let the kitten investigate, by this time, hopefully, the cat will look at it with curiosity, rather than jealousy and animosity. Again, do this several times throughout the day, extending the number of times/day every day, and the length of time out as you go. Doing it this way, you are increasing the chances of their getting along. The transition has been gradual and monitored.
GIVE EACH PLENTY OF INDIVIDUAL TIME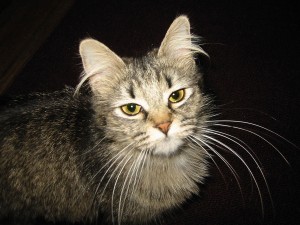 Make sure during that time that you spend plenty of time in the bathroom (or a spare bedroom if you have one — that's even better) with the kitten giving it plenty of love and attention, as well as giving extra attention to the established cat. If there are two of you, don't both go in to spend time with the kitten together. Each needs to feel loved, not excluded.
USE YOUR INTUITION TO DETERMINE WHEN THE NEXT STEP IS
Remember that there is no "set time limit" to do this. It will depend on how quickly the cats (or cat) adjust. You don't want to rush it. You need to use your intuition and be highly conscious of their emotions and reactions and let those guide the time apart or together, rather than having any kind of set time limit. For instance, if you feel in a shorter time that they are doing well and can take more time or more contact, move closer or to the next step. But if the cat is still hissing and such, you need to move more slowly.
I think our last two it was a week and a half before the kitten was out and about a large amount of the time, maybe two weeks by the time he started sleeping with us, maybe a little less. But it's really important to take as much time as it takes so they have a good relationship.
I remember it being really hard to try to take so long, the kitten really wanted out of the bedroom, but our cats are *great* friends now, so it was worth it.
Introducing cats takes a lot of effort, care and being in tune with how the animals are reacting and feeling. Make sure you plan out, in advance, how you will introduce them and you can foster a long and loving relationship between them. Congrats on your new addition. May you all live together in peace, harmony and happiness for many, many years to come.