RABBIT
Keywords:
Quick reflexes, observation; gentleness; fertility; abundance; creativity
When Rabbit crosses your path:
~ Move quick! Take advantage of the unexpected opportunity in front of you or it may disappear.
~ Be highly vigilant; if something doesn't feel right, remove yourself from the situation as quickly as possible
~ Let go of your fears. Focus on the positive so that you will attract the positive.
Think about Rabbit:
In fear,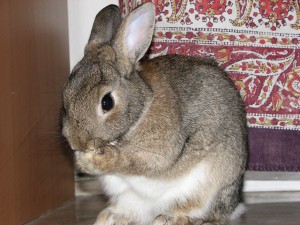 they stay very still long enough to be acutely aware of what is going on around them. But their lives depend upon moving quickly, once they identify that fear, and when they move, they move by 'leaps and bounds.'
They are vegetarians, so they are light in their movement and able to move quickly, even from a frozen position.
Call on Rabbit energy when:
~ You need to 'act quickly' to take advantage of an opportunity
~ You feel things have been moving too slowly and want them now to move by 'leaps and bounds'
~ You're looking to re-energize your creative juices
Rabbit medicine teaches us:
~ To be highly observant of both opportunity and danger
~ To know when it's appropriate to 'freeze' and listen, and when it's appropriate to act quickly
~ To be ready for all possibilities.
Tarot Card Correspondence:
~ The Empress
——
References:
— Animal Spirit Guides by Steven D. Farmer
— Animal-Speak by Ted Andrews