RACCOON
Keywords:
Resourcefulness, Trust, Curiosity, Playful Energy, Inquisitiveness, Dexterity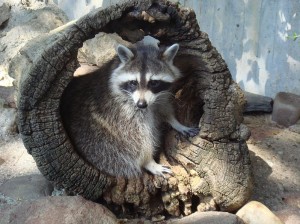 When Raccoon crosses your path:
— Set aside any doubts you have and know that the resources you need will be there for you (analogous to the Magician card in the tarot.)
— Adopt a more relaxed attitude; open yourself up to the joy of curiosity and 'open-ended' exploration* of life.
— Be aware of any signs or omens you may be getting from those close to you on the other side.
Think about Raccoon:
They are adaptable to many types of living situations. They are extraordinarily clever, curious & resourceful. They have dexterous paws which help them get things they want, such as opening lids and latches to things, which might not be available to other animals. They are adventurous and courageously love to explore new things, yet they can be quite ferocious in defending themselves or their babies. They highly intelligent and have keen night vision.
Call on Raccoon energy when:
– You need manual dexterity for a task
– You are in a situation which calls for you to be more adaptable
– You need to find more joy and excitement in life, through exploration and adventure
– You need to feel comfortable with yourself despite what others think of you
Raccoon medicine teaches us:
– To remain flexible and adaptable in the face of challenging situations
– That we have the resources we need for challenging situations
– How to choose which public face (or 'mask') is most appropriate for a specific situation
——
References:
— Animal Spirit Guides by Steven D. Farmer
— Shamanism, Vol. III, Animal Medicine Powers, by Dolfyn. ©1992 Earthspirit Inc.
— Raccoon Facts
— Animal-Speak by Ted Andrews