DEER/FAWN AS A SPIRIT GUIDE

KEYWORDS:
– Gentleness, Caring, Kindness
– Innocence, Vulnerability
– Keen Psychic Insight, Observation
– Sensitivity & Ability to Listen
When Deer crosses your Path:
– Now, more than ever, you need to trust your instincts
– It's a time to be gentle with your self
– You need to remove yourself from negative influences and seek out safe harbors, be it situations or the people in your life.

Think about a Deer:
It doesn't really have the defenses that so many other animals have, not the teeth of a tiger, the quills of a porcupine or the strength of a walrus. It's true natural defense to the world around it is it's keen sense of observation and escaping capabilities. It's light on it's feet, it feels and hears the tiniest things. It's vulnerable, yet willing to move out of it's world to explore new beings and new sights around it.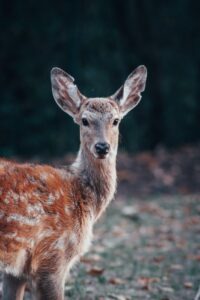 Deer medicine can teach us to let down our guard and be vulnerable to the world around us, emotionally, physically and psychically. So often our egos of armor keep us from experiencing those things which can only be experienced through vulnerability and heightened sensitivity. In doing so, we open ourselves up for hurt, as well as experience, but without the experience, we might not feel at all. And that would be a terrible shame.
Call on Deer Energy To:
– Open yourself up more genuinely
– Become aware of your surroundings
– Stay in the present moment
——
References
Animal Spirit Guides by Steven D. Farmer *
Shamanism, Vol. III, Animal Medicine Powers, by Dolfyn. ?1992 Earthspirit Inc.
Other animal spirit guides:
| | | | | | | | |
| --- | --- | --- | --- | --- | --- | --- | --- |
| | | | | | Kangaroo | Ladybug | Pelican |
| Porcupine | | | | | | Racoon | |